POPULAR STAMPS
Choose the stamp from our offer
Printing with warranty
One year warranty for any print
Worldwide delivery
Free shipping over 500 Eur
No minimum quantity
Any item from one unit
MAKING STAMPS
Although stamps have lost their legal force, they are still useful as a representative and elegant accent on important documents. Also, stamps with the name make it easier to sign invoices, since it only takes a couple of seconds to apply the stamp. Also, when signing the delivery note, a date stamp is very useful, with the help of which you can indicate in a short time on which day the document was signed. You can find the prices for making stamps in our catalog, in which the price is indicated already for a ready stamp, regardless of the selected information that must be placed on the stamp, with an included ink pad filled with one of the colors you want. Our company uses the world's leading stamp manufacturer Colop manufactured seal housings that ensure their longevity and quality.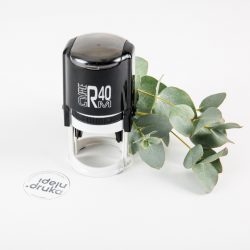 STAMP MANUFACTURING TECHNOLOGIES
Learn more about the features of this printing technology
Laser engraving
Representation materials with engraving looks exclusive and representative, thus making your brand outstanding. Our technology park includes a CO2 laser engraving machine that is capable of engraving metal, organic glass, wood, leather and other materials, and it's power enables cutting them through more than 10mm thick. With this equipment, it is possible to engrave your design on the top layer of the product, as well as to create uniquely shaped representational materials with your company's logo. Also, by combining this technology with UV Printing, it is possible to create souvenirs printed with full-color printing and cut to a unique shape. Laser engraving ir perfect for personalizing gifts with your own design. The advantage of this technology – any product can be personalized starting from one unit. Making stamps, laser engraving is an irreplaceable technology that gives you the opportunity to create stamps with an accuracy of less than a millimeter, in this way you have the opportunity to get stamps in which even the finest detail will be visible when you press the stamp on paper.
Cooperation and communication
"Cooperation and communication for all ? ! Welcoming, interested, professional and cool employees! You can really feel that they care about my order, recommend what might be more suitable and better! Definitely recommend!"
WHY CHOOSE "THE IDEA PRINT"?
Because we can do everything our client wants, quickly and with high quality
Print with warranty
We value quality above anything else. That's why we are the only company in Latvia who's offering one-year warranty for printed goods.
WORLDWIDE DELIVERY
We are cooperating with the largest logistic companies so we could provide fast delivery all over the world. Free shipping for purchases over 500 Eur
TECHNOLOGIES
We have the latest printing equipment for printing and engraving. We make all the processes by ourselves for each order. So we guarantee constant quality and orders with printed goods starting from one piece.
NO MINIMUM QUANTITY
Products with printing can be ordered starting from one unit.
Find out discounts, when ordering products in bulk.
FREE Mockups
Each order starts with a digital visualization. It is made by our professional team and coordinated togeather with the client - FREE of charge.
CUSTOMER SERVICE
Caring customer service who understands client needs. We care about our customers and their wishes, so we always recommend the most suitable solution for the customer, evaluating each situation individually
MORE THAN STAMPS
Learn more about our other services
Didn't find what you were looking for?
Tell us about your needs and our knowledgeable project managers will find the most suitable solution for your situation. Please describe what kind of goods you are interested in and for what purpose they are intended so that we can prepare the best offer for you. That's how, we will be able to offer the most appropriate solutions in terms of price and quality. The more details you describe in the required product and its printing, the faster we can prepare a price offer.
Printing with warranty
One year warranty for any print
Worldwide delivery
Free shipping over 500 Eur
No minimum quantity
Any item from one unit