Apdruka ar garantiju
Gada garantija precēm ar apdruku
Piegāde visā pasaulē
Bezmaksas piegāde pārsniedzot 300 Eur
Nekādu minimālo apjomu
Jebkura prece sākot no vienas vienības
BUSINESS GIFTS WITH LOGO
A high-quality gift to your business partner will remind you of your successful cooperation. Our creative team can customize a gift set exactly for your needs, which is thematically coordinated with your company's colors, core values ​​or goods/services to be exchanged. It is also possible to choose from ready-made gift sets in our catalog. All items of the gift set can be personalized with your desired print. The packaging can also be made unique or you can choose one of the ready-made solutions. Personalized business gifts for Christmas, a national holiday or an anniversary of mutual cooperation will be a great way to thank your business partners for what they have achieved so far.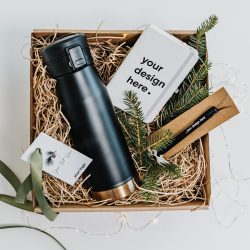 BUSINESS GIFT PRINTING TECHNOLOGIES
Learn more about the differences of printing technologies
UV Printing on business gifts
With this printing technology, it is possible to print full color images, logos or other types of graphics. Regardless of the number of colors used, the price of printing is constan and it gives the opportunity to personalize representational items without design restrictions. In this technology, there are also no preparation costs to start the printing process, and it is also possible to print from one unit, keeping the costs relatively low. Also, the machine is able to provide white color printing, as well as glossy or matte varnish. It is also possible to create a relief print, which can be even greater than 1mm in height, creating in this way Braille article or by emphasizing an object in your design. With this technology, it is also possible to print curved surfaces such as golf balls or bottles with your chosen full-color design. UV printing on wood, plastic, metal or glass – all this can be done with the equipment in our assortment.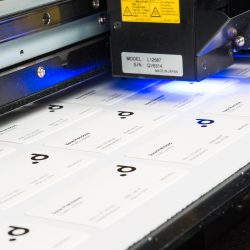 Pad printing on business gifts
Pad printing technology is suitable for very large scale printing works, when the print needs to be placed on representative objects. Printing on pens, pencils, notepads, key chains and more. Mostly printing is done in 1-2 colors, but it is possible to print up to 4 colors. Paints are specially designed for different materials, which provide the highest durability. It is also possible to print on slightly curved surfaces. However, compared to UV printing – it is not possible to print the design with color transitions. Printing can be done on plastic, metal, paper, ceramics, leather, glass and wood.
Laser engraving on business gifts
Representation materials with engraving looks exclusive and representative, thus making your brand outstanding. Our technological assortment includes a CO2 laser engraving machine that is capable of engraving metal, organic glass, wood, leather and other materials, and it's power enables cutting them through more than 10mm thick. With this equipment, it is possible to engrave your design on the top layer of the product, as well as to create uniquely shaped representational materials with your company's logo. Also, by combining this technology with UV Printing, it is possible to create souvenirs printed with full-color printing and cut to a unique shape. Laser engraving ir perfect for personalizing gifts with your own design. The advantage of this technology – any product can be personalized starting from one unit.
Cooperation and communication
"Cooperation and communication for all ? ! Welcoming, interested, professional and cool employees! You can really feel that they care about my order, recommend what might be more suitable and better! Definitely recommend!"
WHY CHOOSE " THE IDEA PRINT"?
Because we can do everything our client wants, quickly and in highest quality
Apdruka ar garantiju
Kvalitāti vērtējam augstāk par visu, tāpēc esam vienīgais uzņēmums Latvijā, kas piedāvā gada garantiju precēm ar apdruku.
Piegāde visā pasaulē
Sadarbojoties ar lielākajām loģistikas kompānijām, nodrošinām ātru piegādi visā pasaulē. Iepērkoties virs 300 Eur - Bezmaksas piegāde
Tehnoloģiskais nodrošinājums
Mūsu rīcībā ir jaunākās drukas iekārtas visu drukas darbu veikšanai. Drukas procesus veicam paši no A-Z, tāpēc garantējam nemainīgu kvalitāti un iespēju apdrukāt preces sākot no vienas vienības
Nekādu minimālo apjomu
Preces ar apdruku iespējams pasūtīt sākot no vienas vienības. Pasūtot preces vairumā - ievērojamas atlaides!
Bezmaksas maketi
Katrs pasūtījums sākas ar digitālu vizualizāciju. To mūsu profesionālā dizaineru komanda izgatavo un saskaņo ar klientu BEZ MAKSAS
Klientu serviss
Individuāla pieeja katra klienta vajadzībām. Mums rūp mūsu klienti un to vēlmes, tāpēc vienmēr iesakām klientam atbilstošāko risinājumu, izvērtējot katru situāciju individuāli
MORE THAN A BUSINESS GIFT WITH PRINT
Learn more about our other services
Didn't find what you were looking for?
Tell us about your needs and our project managers will find the most suitable solution for your needs. Please describe what kind of goods you are interested in and for what purpose they are intended so that we can prepare the best offer for you. That's how we will be able to offer the most appropriate solutions in terms of price and quality. The more details you describe in the required product and its printing, the faster we can prepare a price offer.
Apdruka ar garantiju
Gada garantija precēm ar apdruku
Piegāde visā pasaulē
Bezmaksas piegāde pārsniedzot 300 Eur
Nekādu minimālo apjomu
Jebkura prece sākot no vienas vienības