THE MOST POPULAR JACKET CATEGORIES
Choose a suitable jacket from our wide offer
Printing with warranty
One year warranty for any print
Worldwide delivery
Free shipping over 500 Eur
No minimum quantity
Any item from one unit
JACKET PRINT
Printing of winter jackets, summer jackets, spring and autumn jackets with a worldwide delivery. Fast and high-quality order fulfillment starting from one unit. In our wide assortment you will find jackets for men, jackets for women and also jackets for children, for different seasons. Moreover, each of these jackets can be printed or embroidered with your desired print or company logo. Windbreakers, winter jackets, softshell jackets – these are just some of the most popular jackets with printed prints. Choose the model that suits you from our catalog, or contact our customer service and we will find the most suitable jacket for print for your needs and will find the most appropriate model and the best printing technology.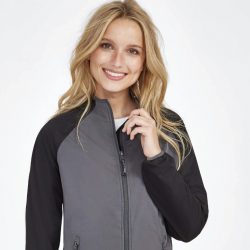 JACKET PRINTING TECHNOLOGIES
Learn more about the differences and advantages of printing technologies
Thermo transfer on jackets
In this technology, printing is done with a special material. wich is cut out with a special machine and then printed on the fabric. Almost all fabrics can be printed by using heat transfer technology. One of the advantages of printing is the possibility of printing from one unit, as well as the fact that the graphics printed in a specific color will not lose their bright colors for years. Reflective, silver and gold printing is also possible in heat transfer technology. The printing price is calculated depending on the complexity of the file and the number of units in each order. We use only the highest quality materials for this technology, to guarantee that print will not crack or peel off, if the care rules for the printed fabric are followed – wash up to 30 degrees, turn the textile product to the other side, and do not iron the places where there is a print.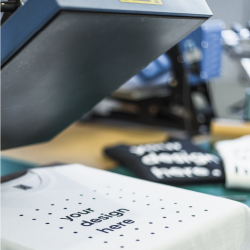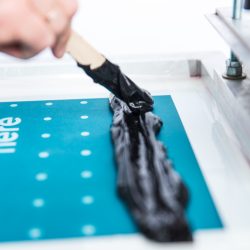 Screen printing for jackets
Screen printing is a great solution for orders with large quantities of items. Very low cost, at high volumes. All types of textiles can be printed in one or more colors with screen printing. Gold and silver printing is also possible. It should be assumed that this technology is advantageous for large volumes, however, we can also make one copy. We recommend minimum quantity fof order- 20pcs, for this technique, to lower the price per item, but we can make one piece as well for higher price. In this technology, printing works can be done according to the PANTONE color palette, but the CMYK color palette is also available, for displaying various types of illustrations and pictures in raster graphics.
Digital textile printing (DTG)
With this technology, you can get a full-color print up to 35×45 cm in size. Bright colors and excellent contrast. The printing colors, similar to screen printing technology, are pressed into the fabric, which ensures longevity. Compared to screen printing, digital printing has no additional preparation costs and minimum volume, so it is possible to make orders that are different for each one. In this technology, it is also possible to print over zippers. Compared to other technologies, the cost of this technology is the highest, but at small volumes the result is excellent, which cannot be achieved with any other printing technology.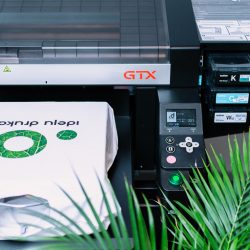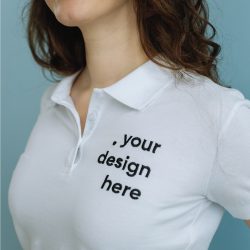 Embroidery on jacket
High-quality embroidery with the company logo adds value to any textile. The number of colors when embroidering is not limited, however, it should be taken into account that it is impossible to achieve color transitions with embroidery technology. On the other hand, it is also possible to use gold, silver and other metallized or design threads, with which you can achieve an even more impressive effect.. For a particularly impressive effect, we also offer 3D embroideryto make the embroidery is several millimeters thick and creates the appearance of a three-dimensional object. When creating a design for embroidery, it should be taken into account that the thickness of the lines of the included objects is not less than 1 mm. Embroidery service is available starting from one unit, however the best price can be obtained by ordering at least 10 identical units. Embroidery is possible on all types of fabrics, both by sewing directly on the fabric and creating stitches that are later sewn to the desired product.
The order was fulfilled in time
"Thank you! I received order in time and it was done in highest quality (to have 5 stars with a plus 🙂 ) The size of the inscription would be a bit larger so that the whole looks 200% 😉 but overall everything is great). I recommend "The Idea Print" as well to others!"
WHY CHOOSE "THE IDEA PRINT"?
Because we can do everything our client wants, quickly and with high quality
Print with warranty
We value quality above anything else. That's why we are the only company in Latvia who's offering one-year warranty for printed goods.
WORLDWIDE DELIVERY
We are cooperating with the largest logistic companies so we could provide fast delivery all over the world. Free shipping for purchases over 500 Eur
TECHNOLOGIES
We have the latest printing equipment for printing and engraving. We make all the processes by ourselves for each order. So we guarantee constant quality and orders with printed goods starting from one piece.
NO MINIMUM QUANTITY
Products with printing can be ordered starting from one unit.
Find out discounts, when ordering products in bulk.
FREE Mockups
Each order starts with a digital visualization. It is made by our professional team and coordinated togeather with the client - FREE of charge.
CUSTOMER SERVICE
Caring customer service who understands client needs. We care about our customers and their wishes, so we always recommend the most suitable solution for the customer, evaluating each situation individually
MORE THAN JACKET PRINT
Learn more about our other services
Didn't find what you were looking for?
Tell us about your needs and our knowledgeable project managers will find the most suitable solution for your situation. Please describe what kind of goods you are interested in and for what purpose they are intended so that we can prepare the best offer for you. That's how, we will be able to offer the most appropriate solutions in terms of price and quality. The more details you describe in the required product and its printing, the faster we can prepare a price offer.
Printing with warranty
One year warranty for any print
Worldwide delivery
Free shipping over 500 Eur
No minimum quantity
Any item from one unit